Renovation of the Antal Csermák Elementary Art School
# type: Musical performance
# location: Veszprém, HU
# partner: VEMÉVSZER Építő- és Szerelőipari Kft.
Project
Our partner entrusted us with the production and installation of the mobile stage, projection canvas, and curtain track system, as well as the sewing works of the sound reflective forecurtain and stage background curtain as part of the renovation of Csermák Antal Music School, Veszprém, Hungary.
Challenge
During acoustic design apart from the form and dimensions of the room the designers took into account factors such as indoor sound propagation properties, the amount and quality of the materials defined and used based on their functions, sound absorbing and reflective surfaces, fire resistance etc.
During design and construction the expectation was to have the projection canvas, the curtain track system, as well as the forecurtain and the background curtain fit the designers' concepts.
Solution
We sewed a sound reflective forecurtain out of Clivia Echo type velvet for the concert hall using a total of 407 square metres of fabric.
The 46 square metre stage background curtain was created using claret Ascona 400 fabric, with double draping. The width of the curtain is 14.7 metres, its height is 3.13 metres.
The entire stage curtain system as a whole fulfils the acoustic requirements.
The motorized side curtains enable swift acoustic transformation.
—
We installed a massive, motorized 600 x 487 centimetre projection canvas into the concert hall.
Furthermore, we placed 10 pieces of 2 x 1 metre black anodized (provided with a corrosion resistant oxide layer) platforms (assembled from mobile stage elements) with adjustable (between 20 and 100 centimetres), foldable legs.
► Project location: the Antal Csermák Elementary Art School
Founded in 1916, the primary art school was named after the violinist and composer Antal Csermák in 1955. It has a 200-seat concert hall and a 60-seat chamber hall in the centre of Veszprém.
Address: 8200 Veszprém, Megyeház tér 5.
Source: Official website of the Antal Csermák Elementary Art School.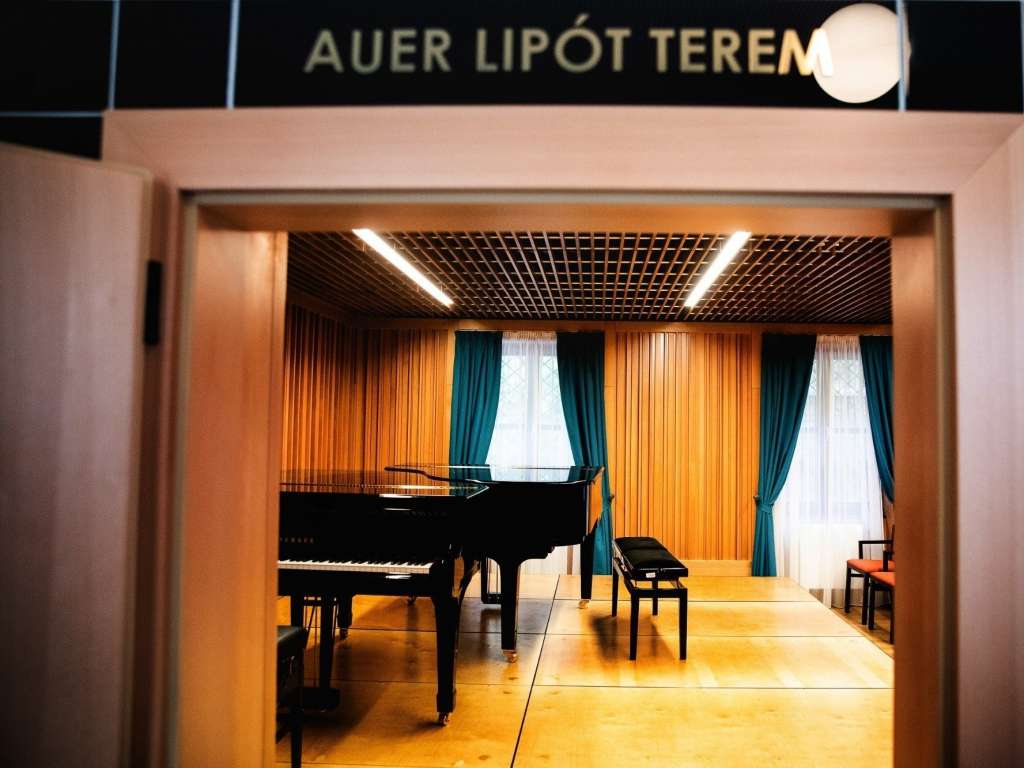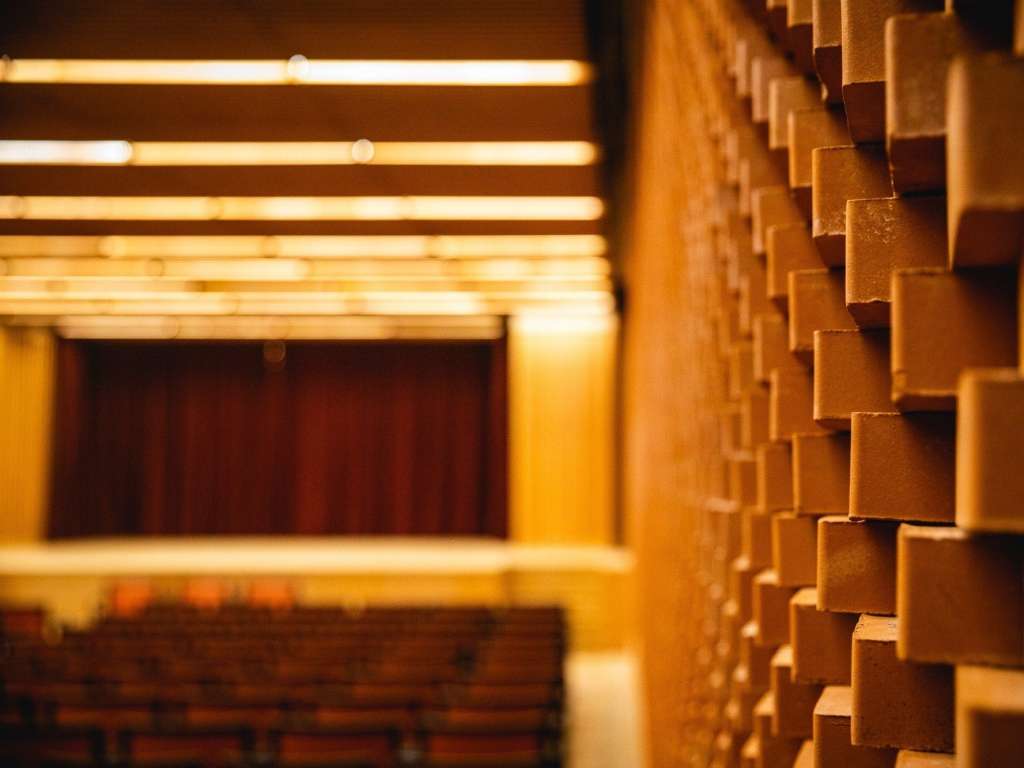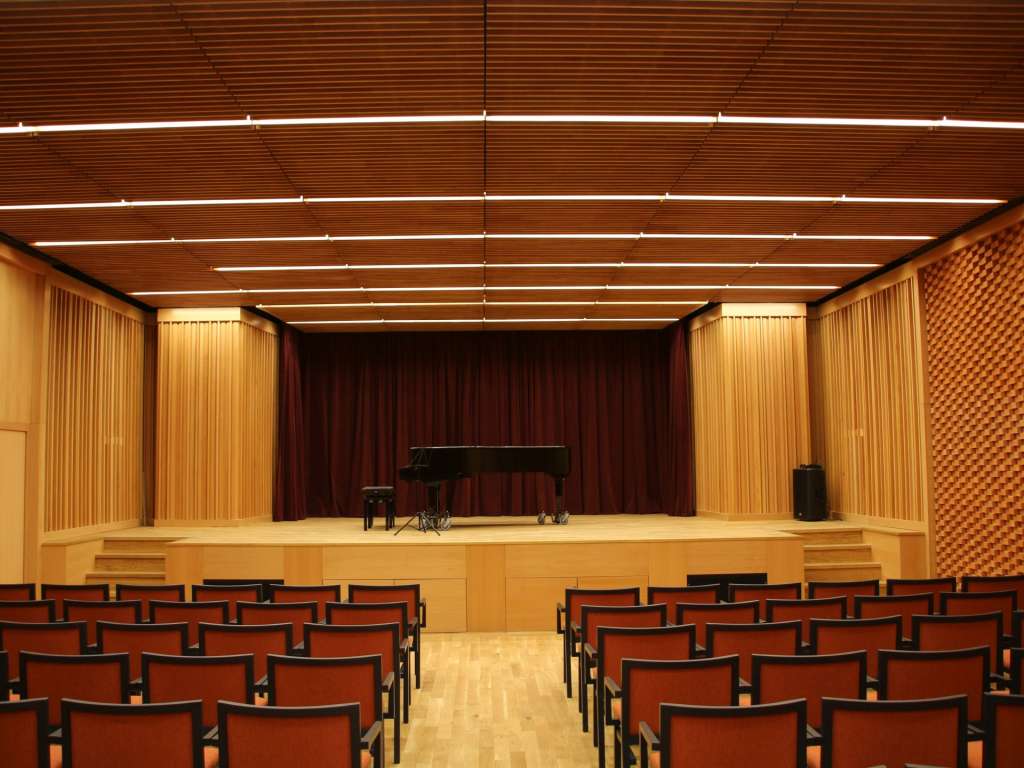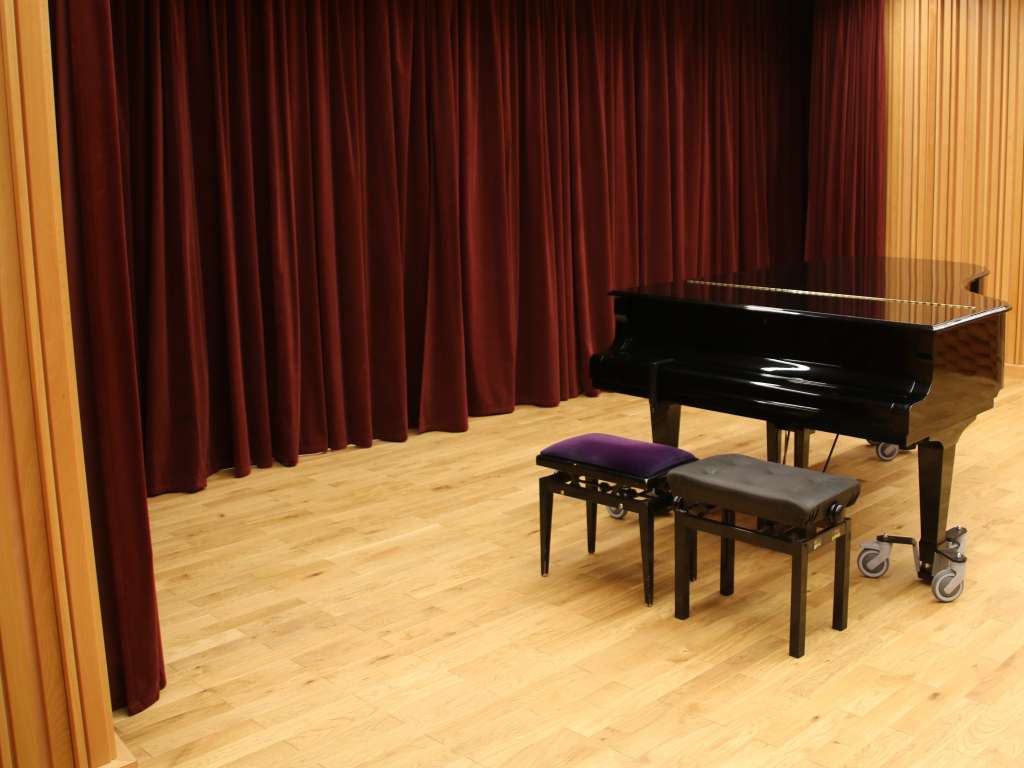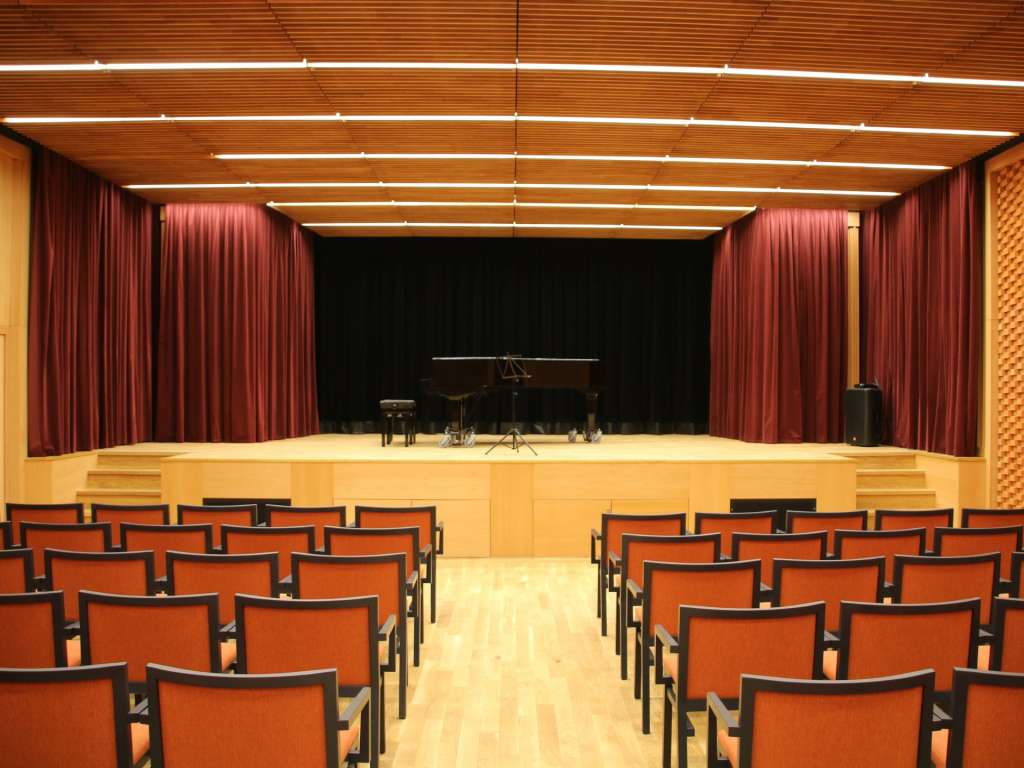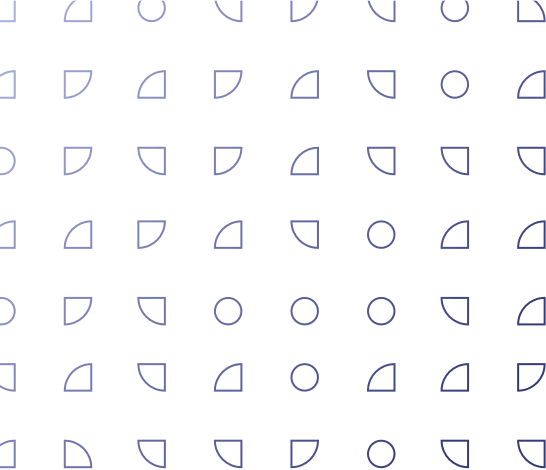 More projects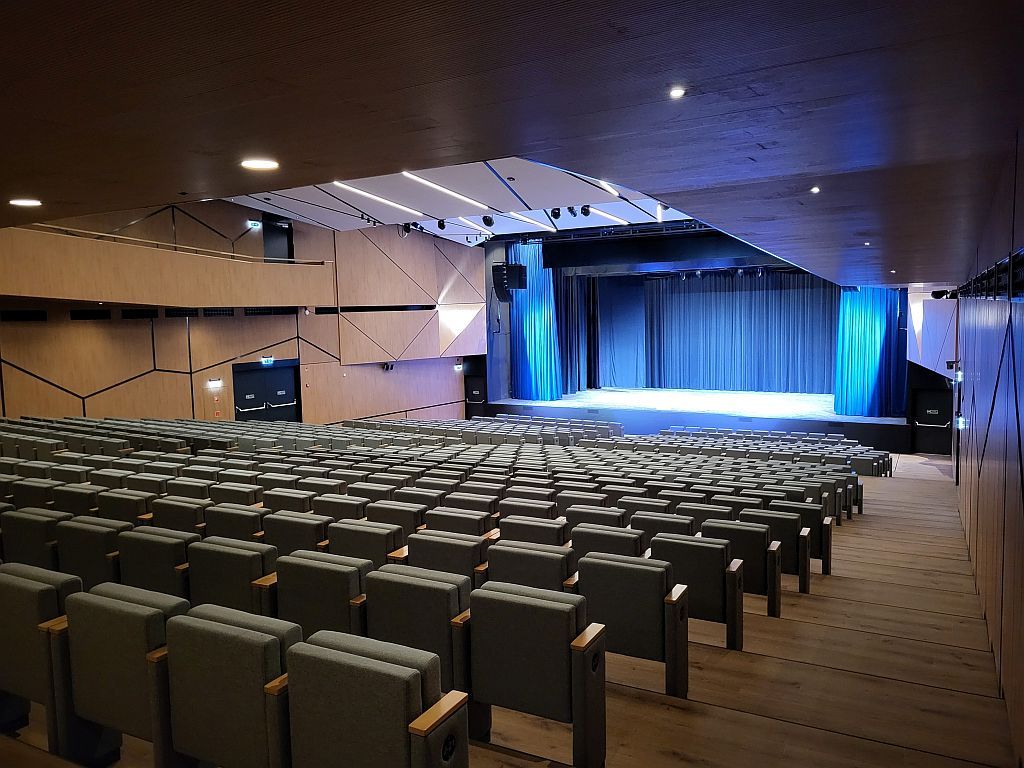 A four-season congress centre has been constructed in Balatonfüred; during the erection of the congress centre we performed the entire stage technology design and construction.
Project details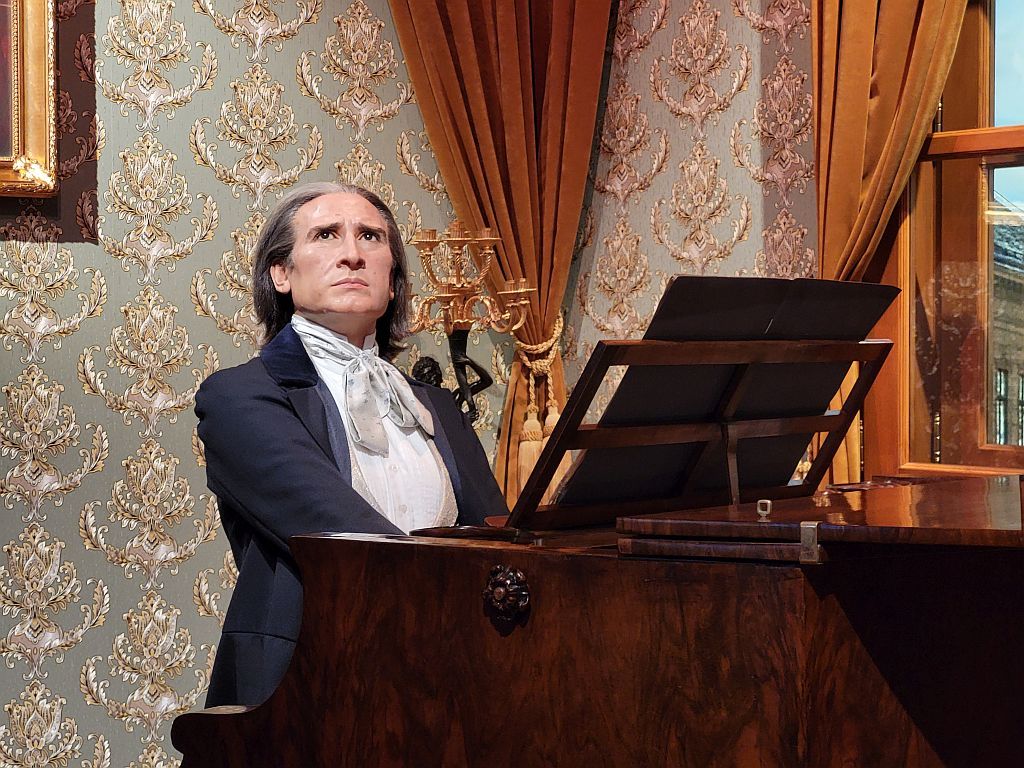 The capital's attraction will feature 51 lifelike wax figures of international and Hungarian celebrities, with 17 Hungarians among them. We were commissioned to create the installations for the figures; we had to make curtains for 4 installations ...
Project details